The American Giving Project / Toys of Hope Literacy Program partners with Darren Sardelli. Award winning poet, motivational speaker, and children's book author, Darren Sardelli, makes poetry fun and exciting for everyone. His poems are featured in 12 children's books in the U.S. and England, and 10 textbooks (worldwide). Since 2004, Darren has visited more than 350 elementary and middle schools (in 7 states). His program, The Funniest Poet in School, has become a Top 10 School Program on Long Island.
The goal of the American Giving Project / Toys of Hope literacy program is to encourage children to read by providing them with new books and reading materials. Books are donated by bookstores, such Barnes & Noble, as well as publishers, including Scholastic Books.
Books provided range from those for infants, such board books and bath time books, through nursery rhyme books and early readers up to high school age reading materials.
The children are referred by either a teacher, social worker or school nurse and also by other not-for-profit organizations.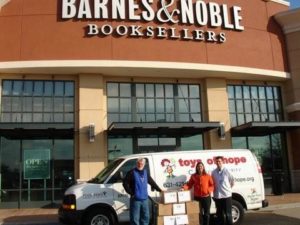 The Interactive Reading Program provides a volunteer who will visit with the children, read a story that they can participate in, and then elicits ideas and comments, using friendly puppets to teach a gentle lesson in manners or morals. The children are excited by the presentation, and their teachers report that it makes them enthusiastic about learning.
We also distribute Birthday Books to children in need. The children look forward to receiving a book every year on their birthday as an extra special present.
Random Acts of Kindness (Samoset Middle School)
The month of February is recognized as national "Random Acts of Kindness" month. The Samoset BLT (Building Leadership Team) set out to find a project that would teach the Sachem middle school students about the joy of giving to others who are less fortunate. We researched many different options for our "act of kindness". We unanimously agreed on raising funds to purchase children's storybooks, record a narrative CD, and donate them to a local charity.
Samoset Middle School teamed up with Waldenbooks in the Smithhaven Mall. The Waldenbooks store was kind enough to ask its patrons if they would be willing to donate a dollar toward the purchase of books for less fortunate children. At the same time, Samoset BLT along with the support of the Renaissance Club was running their "books for a buck" campaign during the lunch periods at school.
Our next step was to find a local charity that the Building Leadership Team would be proud to support. We contacted several charities on Long Island. Quite by accident we came upon an organization called "Toys of Hope". Its founder, Melissa Doktofsky, established Toys of Hope on Long Island in 1994. There are no paid employees at this organization and ONE HUNDRED PERCENT of all funds contributed go towards helping needy and homeless children and their families. Please visit their web site at www.toysofhope.org to see all they do for our local community.

With the generous support from our sachem students, its faculty and surrounding community, we were able to purchase over one hundred, hard covered children's storybooks. The Samoset students volunteered time during lunch periods and after school to narrate the stories onto a CD that will accompany the books. These books will be utilized as part of the Toys of Hope literacy campaign. Samoset will present these books to "Toys of Hope".

Thanks to all those who have volunteered their support in making our "random act of kindness" a great success!